Adventure Office Software Features
Adventure Office has earned the title "The Software for Outfitters" by becoming the most feature-rich booking platform in the tour operator industry. This wasn't by mistake. Adventure Office develops features in line with what our clients need to run their businesses. Our "development by demand" model ensures that we are constantly listening and adapting to the feedback-driven by the people in the outdoor industry. You know how to best bring more guests into the outdoors, we are here to give you the tools.
Online Booking
---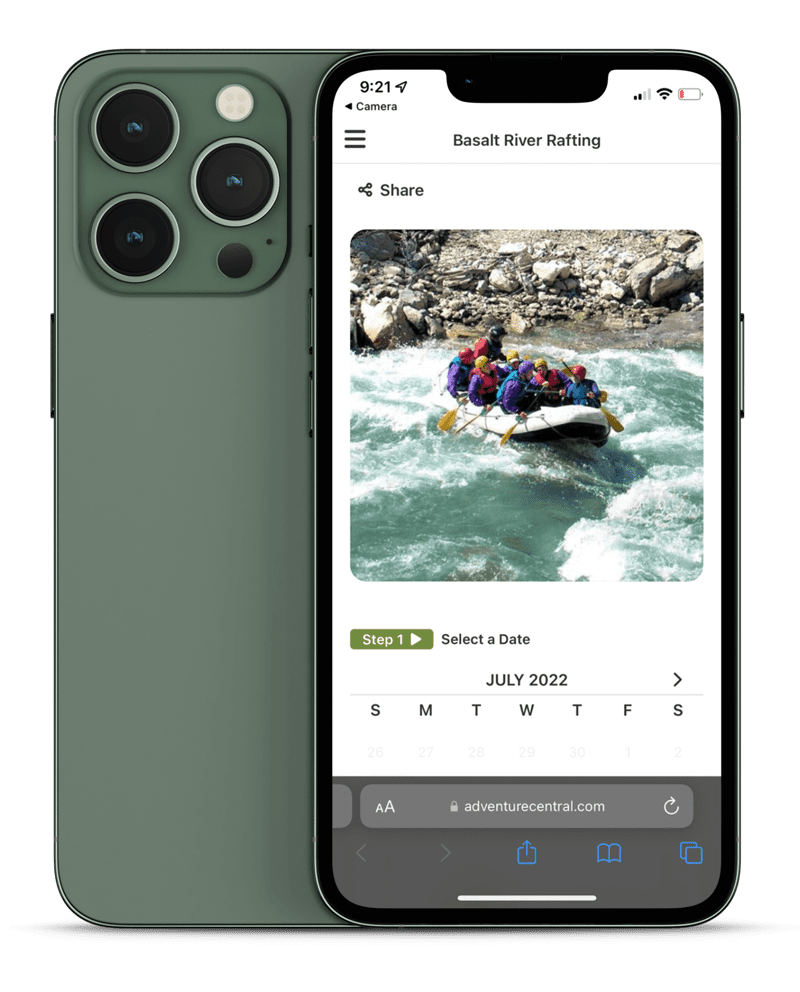 Seamless online bookings
It should be easy to make a reservation online! That's why we've streamlined the entire process from the moment your guest clicks "book now"!
Create a thoughtful guest experience automatically
Don't lose the mom-and-pop feel of your business just because you're using an automated system. Schedule custom messages to send out to your guests with trip information, waiver reminders, and post-trip prompts to leave reviews.
Upsell Groups
Create a complete guest experience by pairing your inventory with the proper upsell group. Upsell trips, rentals, lodging, apparel, or anything else in your database when guests add an item into their cart.
Integrated payments
Take full payments or set up a deposit schedule that will charge your guest's payment-on-file automatically. Your guest's payment method is stored to their account, making it easy to add to their reservation prior to and during their visit.
In-person/over the phone
---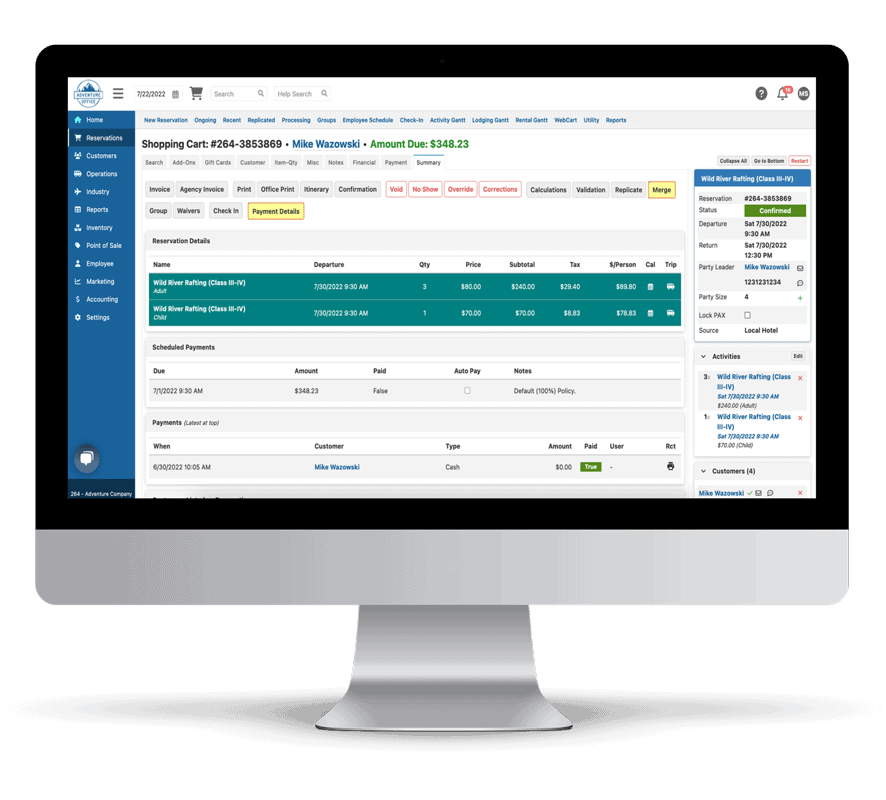 Full back-office reservation management
Taking reservations over the phone is intuitive and easy. See availability, build custom itineraries, and create the ultimate guest experience.
Groups
Manage group reservations from the group management page. Create group holds, manage multiple payments, and apply discounts. Put the planning back into the hands of the party leader.
Discounts/Custom Pricing
Manage discounts or custom pricing plans for your guests with our per-reservation discounts page or create discounts to be applied system-wide. Item-based, seasonal, or party size discounts can be applied automatically or on a per-reservation basis.
Integrated payments
---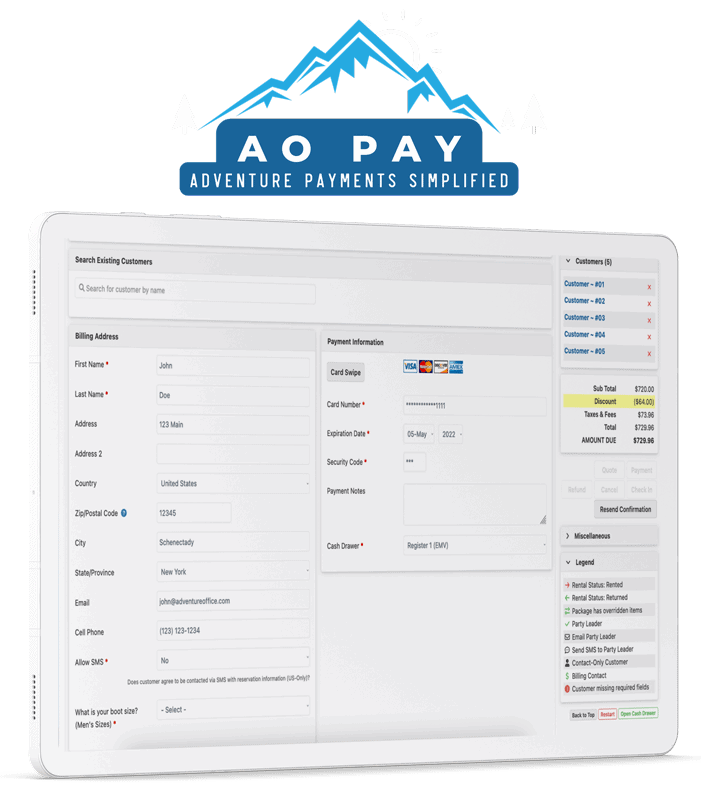 AO Pay (all-in-one pricing)
Software and payments under one umbrella! Our industry-leading Support team supports both software AND payments questions.
Virtual Terminal
Your Virtual Terminal lives in Adventure Office. View credit card processing from start to finish and access revenue reports all in one place for simplified accounting.
Point of Sale
---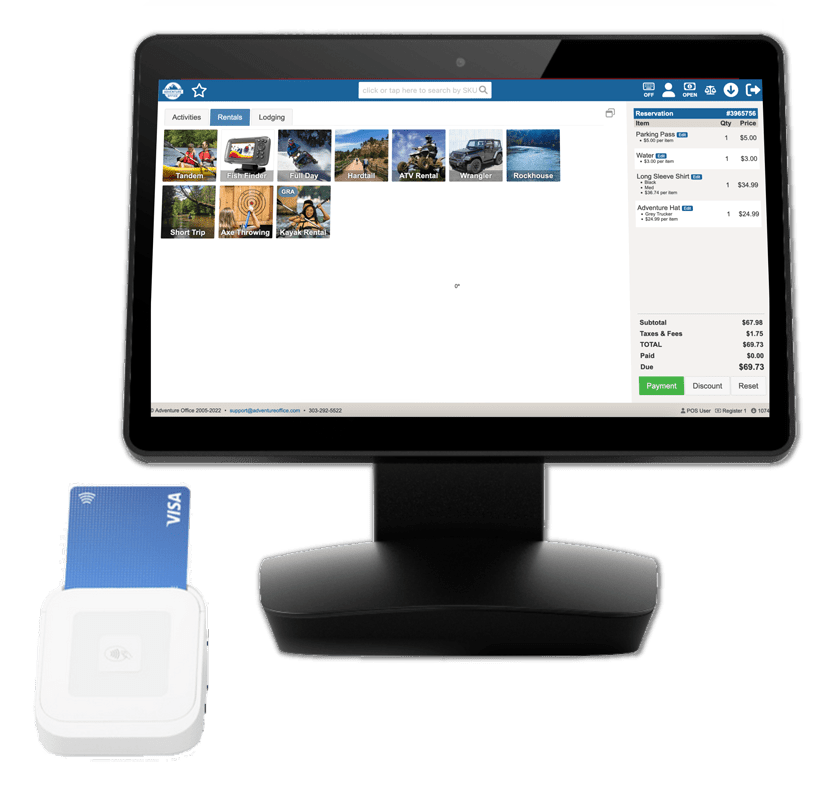 Retail Sales
Manage your retail items from the Adventure Office Point of Sale! Sell all of your storefront goods such as coffee, snacks, t-shirts, hats, and more.
Bar tab
Keep a running tab or quickly save an order if a guest isn't quite ready to check out.
Walk-Ins
Offer a one-stop shop experience for walk-in traffic by toggling between retail inventory, trips, rentals, lodging, and/or packages.
Charge to existing card/reservation
For guests with a card on file, charge for their POS add-ons directly! Guests have the freedom to go wallet-free during their stay, making it easy to add tips, photo packages, and souvenirs after their trip.
Operations
---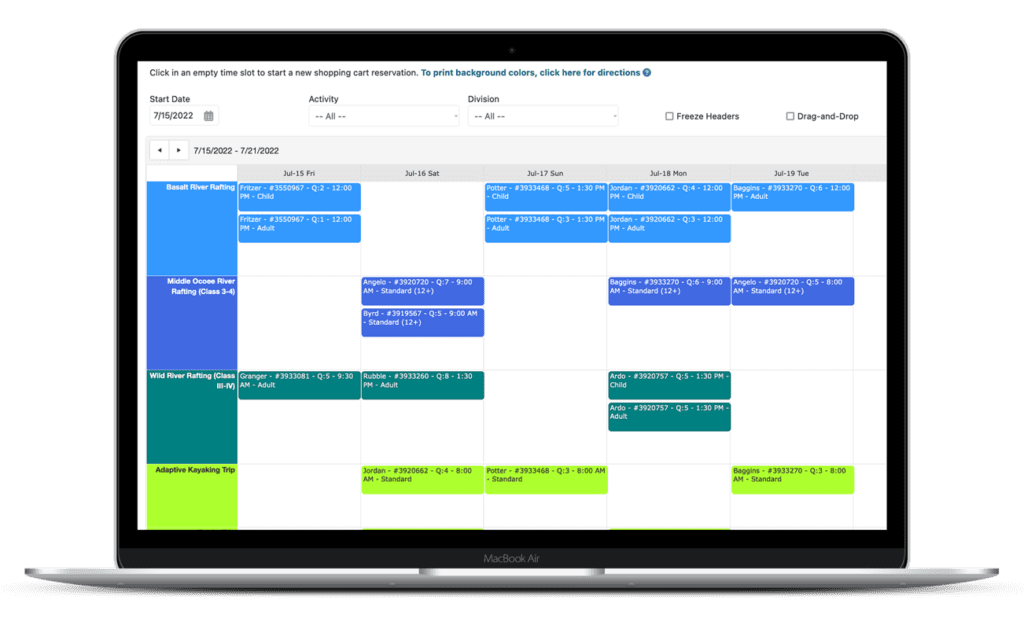 Check-in screen
Check your guests in for the day at the check-in screen! Oversee waiver counts, outstanding balances, and daily guest counts, as well as manage your inventory, all at once.
Resource management
Avoid overbookings by tracking resources across multiple inventory items. Assign resources to guides/employees so they'll know exactly which gear or vehicle to use for their trip.
Rental Management
---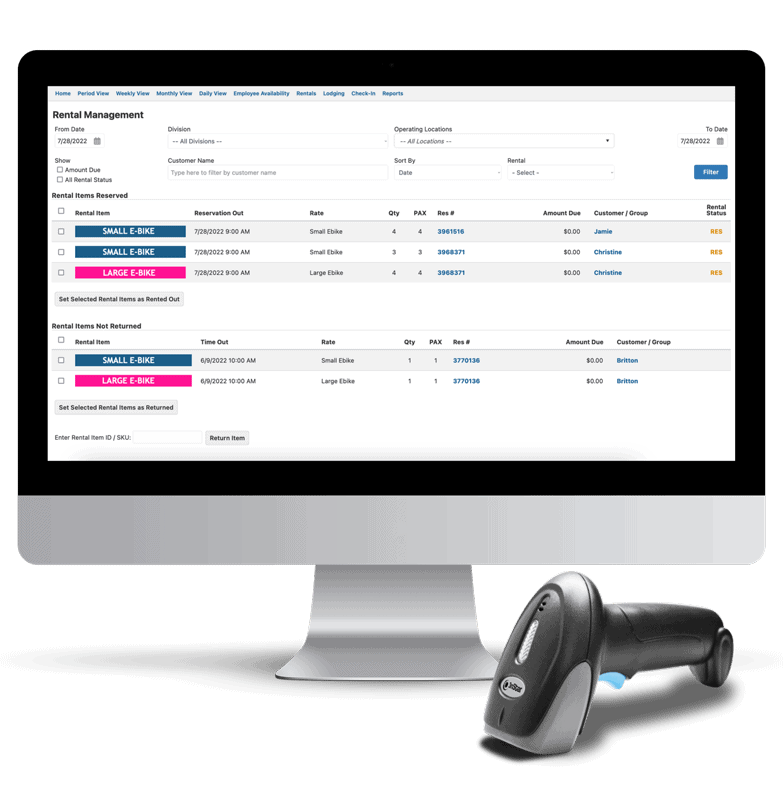 Rental Management Page
All rentals can be tracked from the Rental Management page! Check items in and out, see what reservations each rental belongs to, and easily identify which items haven't been returned yet.
Scan items to check them back in
Assign unique SKU codes to your rental inventory to scan them back into the system upon return.
Fixed or variable rental times
Do you have set departure times or do guests choose when they will pick up their rental? Adventure Office allows you to set up your departures in whatever way works best.
Lodging
---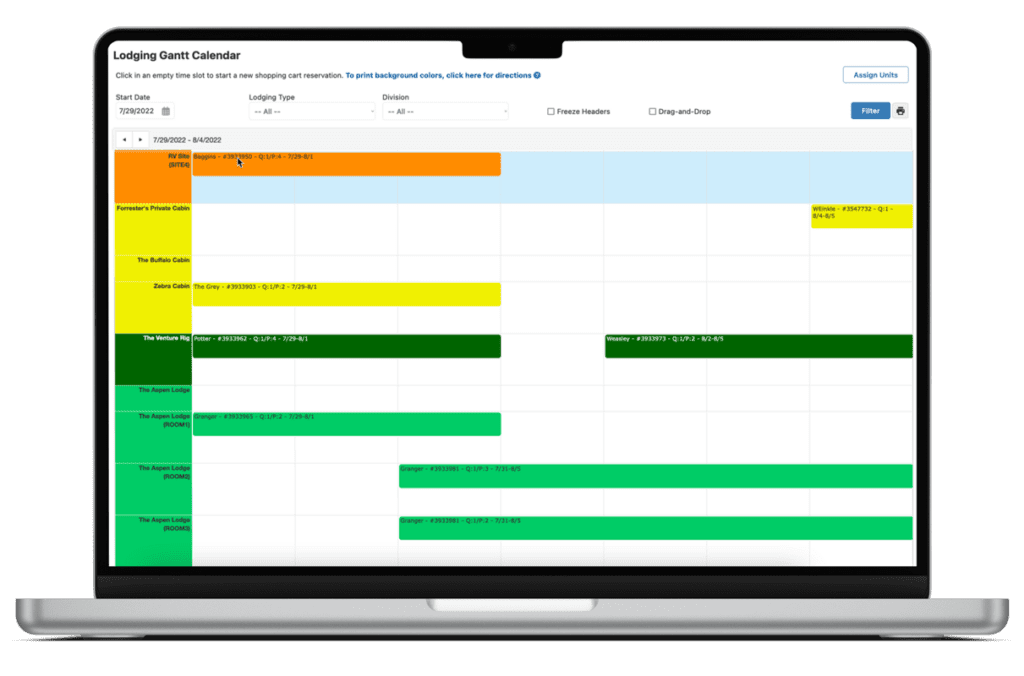 Lodging Gantt
Our colorized Gantt page makes it easy to see which units are rented within a week in time. Use the drag and drop feature to assign reservations to units/campsites.
In-house Lodging Management
Track which units/campsites are being cleaned, ready, or occupied. Allow housekeeping to make changes so the status is always up to date.
Auto Assign Units
Tired of manually assigning units every week? Let our auto assigner do the work for you. We will make the lodging reservations fit together like puzzle pieces.
Employees
---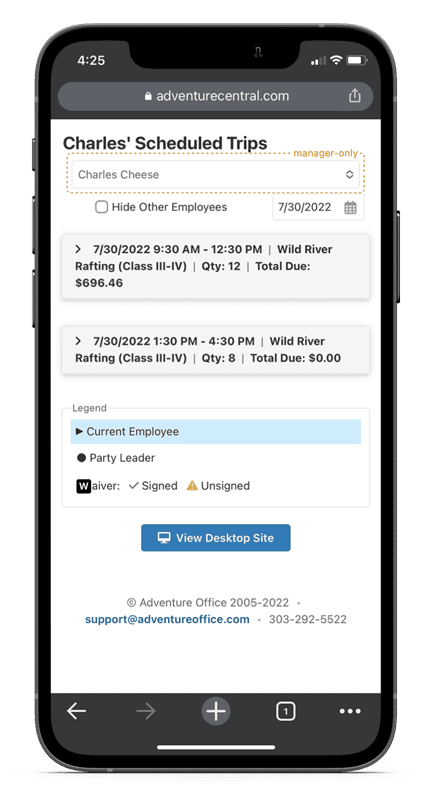 Employee scheduling
Schedule guides, housekeeping, office staff, bartenders, and all their staff using our employee scheduling feature! Create employee roles so each staff member knows their assigned duties.
Employee Portal
Give employees a unique login to see their scheduled trips, manage certifications, track payroll, and set their availability.
REPORTING
---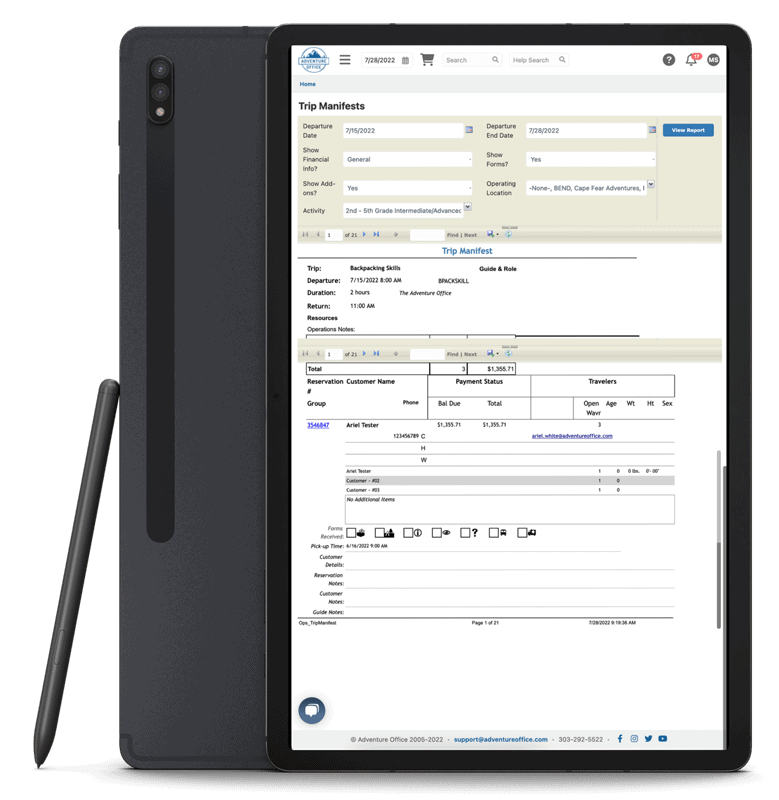 Accounting
Know your numbers! Our general ledger accounting makes it easy to mirror your chart of accounts and import information directly into your accounting software.
Trip Manifests and Rental Reports
View trip manifests and rental counts from any device. No Wi-Fi or bad reception? Print the information for employees in the field!
See the information you need
All data that comes into Adventure Office is reportable. Let us help you find the best way to see it!
Support
---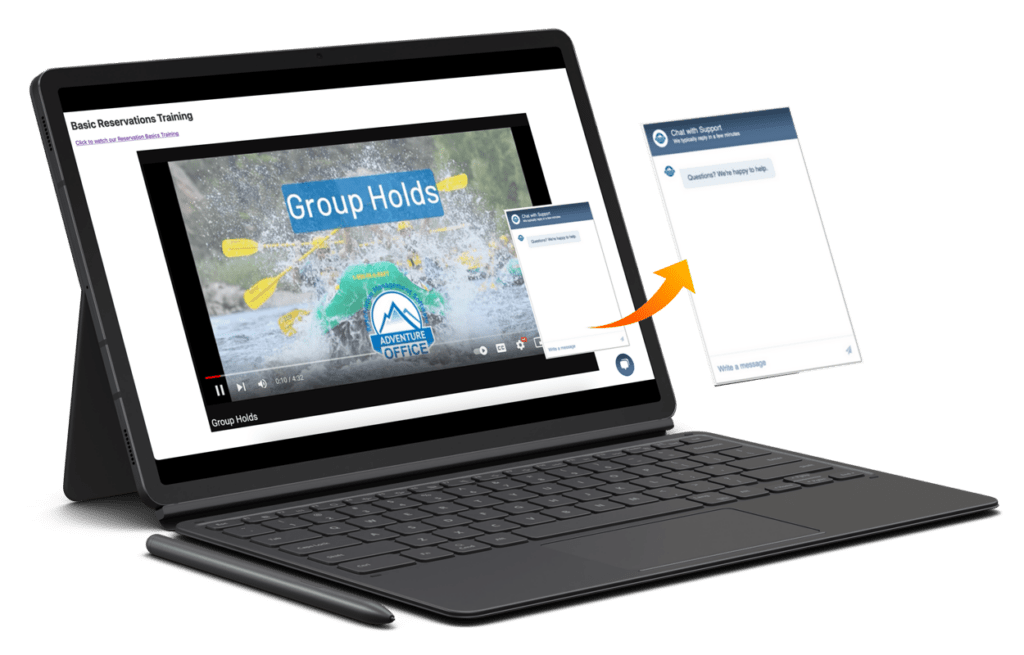 Help articles
Reference the extensive Help Article library to assist you in geting acquainted with the features in Adventure Office.
YouTube videos and Webinars
Visit our YouTube channel for videos to help you navigate new features and FAQs. Join us for our annual spring webinar series to learn about our latest developments and to refresh your staff before the summer season kicks off.
Request/schedule annual staff training
Contact Support to schedule an in-person or virtual training to brush up your skills.
Chat/phone/email
Reach support through an in-system chat, email, or phone call! Whatever works best for you works best for us!
Marketing and Automated Messages
---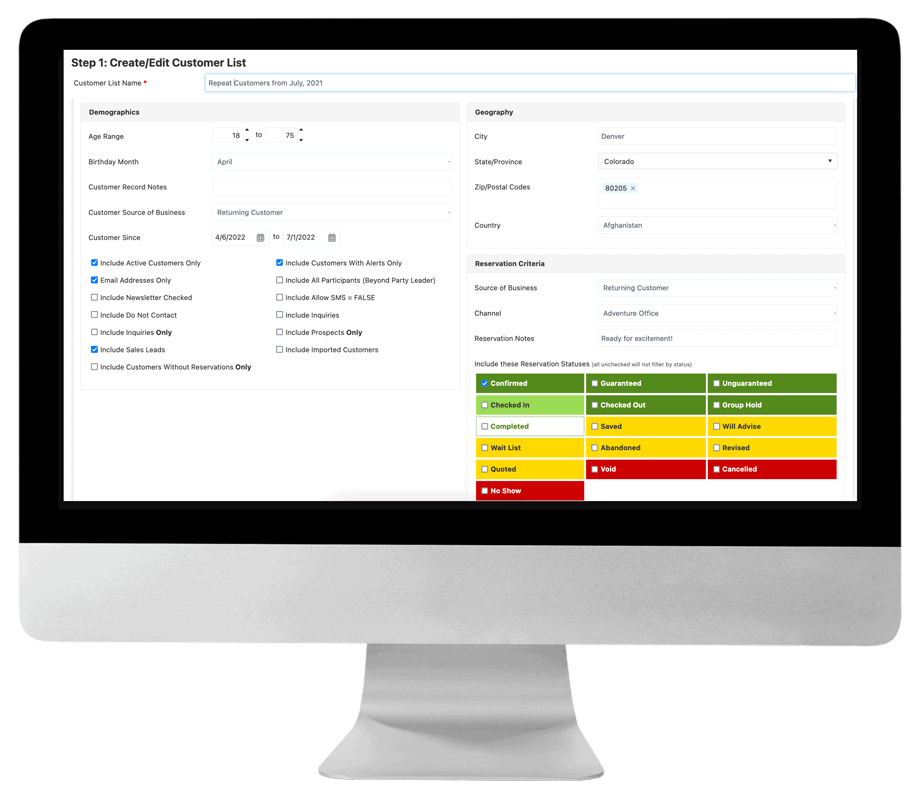 Automated emails
Utilize automated emails to keep in touch with your guests prior to and after their visit.
SMS messaging
Would you like to send a quick message but an email seems a bit much? Schedule an SMS message to go out to guests who have opted in to allow texts!
Generate lists for bulk emailing
Our marketing tools help you fine-tune guest lists for mass communication. Use our filters to create the perfect group for your next marketing effort.
API/Industry
---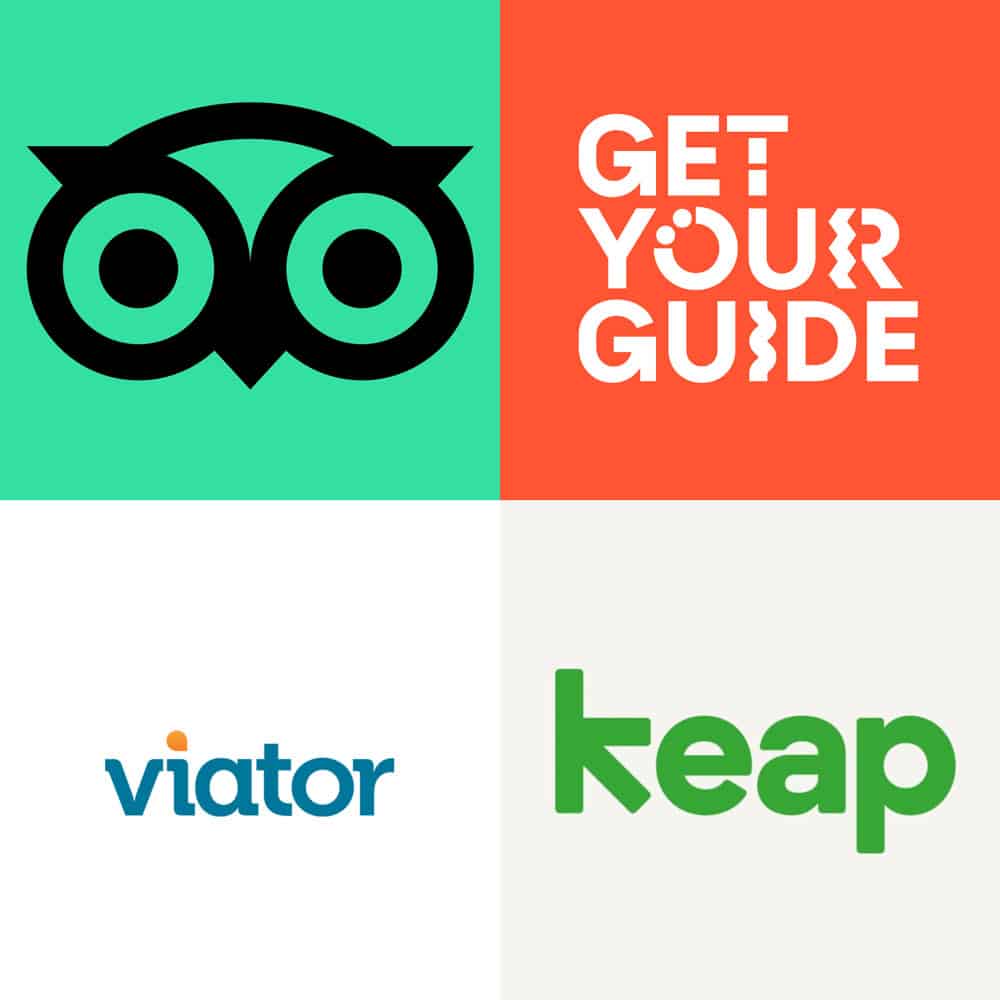 API connections
Get Your Guide, Viator, MyAllocator, Trip Advisor Review Express, InfusionSoft/Keap
Agencies/Agents
Utilize your own relationships with local travel partners within the Adventure Office Industry portal. Negotiate and track commissionable payments and give your partners unique booking links.